AYODELE'S BIRTHDAY FUNDRAISER FOR LOWER BOTTOM PLAYAZ INC
Join me in supporting Lower Bottom Playaz. For my birthday this year, I'm asking for donations to Lower Bottom Playaz Inc, the oldest North American African Theater Company in Oakland CA. Consider celebrating art that makes you taller with me. Your contribution will make an impact. Every little bit helps us enliven our motto that we make what we need from what we have been gifted. Support our 24th Season of service through art in Oakland. Our season includes a surprise group of shorts in February, August Wilson's Radio Golf in August, August Wilson's Joe Turner has Come and Gone in November, and the return of Summer Theater Day Camp for youth from 8-18. Your donation supports art about and for your real life. We play for you--we always have and we always will. Thank you for your support.
SEASON 23:
WOMAN'S WORK
BUILDING COMMUNITY ONE STORY AT A TIME
The Lower Bottom Playaz
Est. 1999

Founding Director Ayodele "WordSlanger" Nzinga
, MFA, PhD
LOWER BOTTOM PLAYAZ
SEASON 23: WOMAN'S WORK
Announcing: Janga's House
Cultural Practitioner: Ayodele Nzinga
Funded by: Just Cities: Belonging in Oakland
"If your story is always told from the outside – how can it be your story?"Janga's House will delve into this question along with communal memories of place and narratives of thriving in the post-gentrification "sundown town" of Oakland. Writer and theater artist Ayodele Nzinga, playwright Cat Brooks, and a cohort of Black women film and stage writers will research and develop a theater piece that explores Black voices unmodulated by the gaze of white supremacy. Through community interviews, participatory research, and healing practices, the project centers Black Aesthetics as central to Oakland's past, present, and future.
Ayodele Nzinga. Cat Brooks. Crystallee Crane. Asantewaa Boykin. Ashley Smiley. Alex Bledsloe.
Coming Soon: T. O. W. N. TV
The Oakland Woman's Network seeks a founding board and visionaries to collaborate on the roll-out of a new Oakland based television station. Content creators looking for distribution opportunities and small businesses looking for innovative advertising advantages encouraged to inquire. Register now to stay up to date on this new community asset. Inquiries to: Contact us at www.lowerbottomplayaz.com
Open Casting Call
Submit resumes and headshots now for consideration in 2022-2023 Seasons. Resumes and headshots to Contact Us www.lowerbottomplayaz.com
Casting:
Flowers for the Trash Man - by Marvin Jackmon | Bathroom Graffiti Queen - by Opal Palmer Adisa | Journey of Names - by Will Crossman | Government Housing | TBD
BAMBDFEST 2023 International Biennial
Accepting inquiries for international Arts and Culture festival in August of 2023.
Seeking: Musical acts, poets, workshop facilitators, curators, podcasters, filmmakers, dancers, and other cultural offerings of interest to the Black diaspora. Focus is theater and literature for 2023. All materials considered.
OPEN READING PERIOD:
Scripts solicited June- July 2022. Reading period is currently CLOSED. wordslanger@gmail.com
HIRING
Resumes accepted for 2022 hires.
Executive Administrative Assistant- APPLICATIONS -wordslanger@gmail.com
Video Producers
Station Manager (television)
Communications Director
Teaching Associates for Summer Theater Day Camp
Outreach co-ordinators
COVID PROTOCOL
Thank you so much for your purchase of a ticket to "Bathroom Graffiti Queen." We are so excited to be returning to live performance with you all!
As we prepare for our return to the stage we want to make sure that we are doing our part to keep you, our artists, and our community safe.
Due to an abundance of caution and wanting to protect immunocompromised members of our community, we are requiring a COVID test result taken within 72 hours of the event as well as mask wearing for all patrons. All of our artists, crew and members of our team will also be participating in weekly testing.
Testing:
Due to an abundance of caution and wanting to protect immunocompromised members of our community, we are requiring a COVID test result taken within 72 hours of the event is required for all patrons. All of our artists, crew and members of our team will also be participating in weekly testing.
MASKS:
All staff, volunteers, artists, patrons, and guests are required to wear a properly fitting face mask that covers the nose and mouth when indoors, including those who are vaccinated, with the exception of artists while performing onstage, children under 2 years of age.
We strongly recommend and encourage the wearing of highly effective masks such as N95, KN95, or KF94.
Face shields alone, gaiters, bandanas, and masks with valves will NOT be permitted


We request our audience members do not attend performances or events at if you have COVID, are experiencing any COVID-related symptoms before the event begins, or if you have been exposed to COVID.
ACCEPTABLE PROOF OF A NEGATIVE COVID-19 LAB TEST RESULT
All audience members must provide proof of a negative COVID-19 PCR lab test taken within 72 hours of the performance start time, or a negative COVID-19 antigen lab test (home kits/tests will not be accepted) taken within 6 hours of the performance start time.
Printed document (from the test provider or laboratory).
An email or text message displayed on a phone or electronic device from the test provider or laboratory. The information provided should include name of person tested, type of test performed, and date of negative test result.
Box Office
There is no need to print out tickets -- your name will be at will call, and all you'll need is to show your negative COVID test and a photo ID that matches.
We ask you to self-monitor for COVID symptoms and exposure, and stay home if needed! If you have any questions or need help with your purchase reach out to asevans88@gmail.com
WE ARE MORE THAN ENTERTAINMENT
WE ARE TRANSFORMATIVE THEATER
The Lower Bottom Playaz -- Founding Director Ayodele "WordSlanger" Nzinga, MFA, PhD

The only troupe on earth to chronologically produce August Wilson's 10 Play Cycle American Century Cycle. The originators of Shakespeare in the Yard Series, (Shakespeare in the Hood), Ebony & Johnny and Mack: A Gangsta's Tale written about by Scott Newstock and TL Barnes in their academic coverage of urban adaptations of Shakespeare. We are the company that located the Black Canon in West Oakland by site specific adaptation -- Baldwin's Amen Corner and Hansberry's 'Raisin,' the creators of original theater, Mama at Twilight: Love by Death, Beyond the Bars, Mama's Letters. The presenters of Oakland CA's first Black Arts Movement Theater Festival, Collective Acts Producers of BAMBDFEST 2019 & BAMBDFEST 2020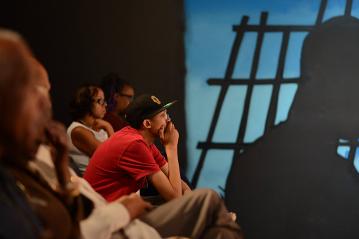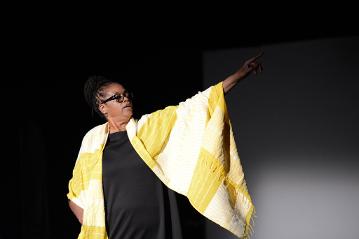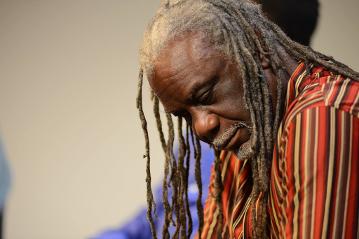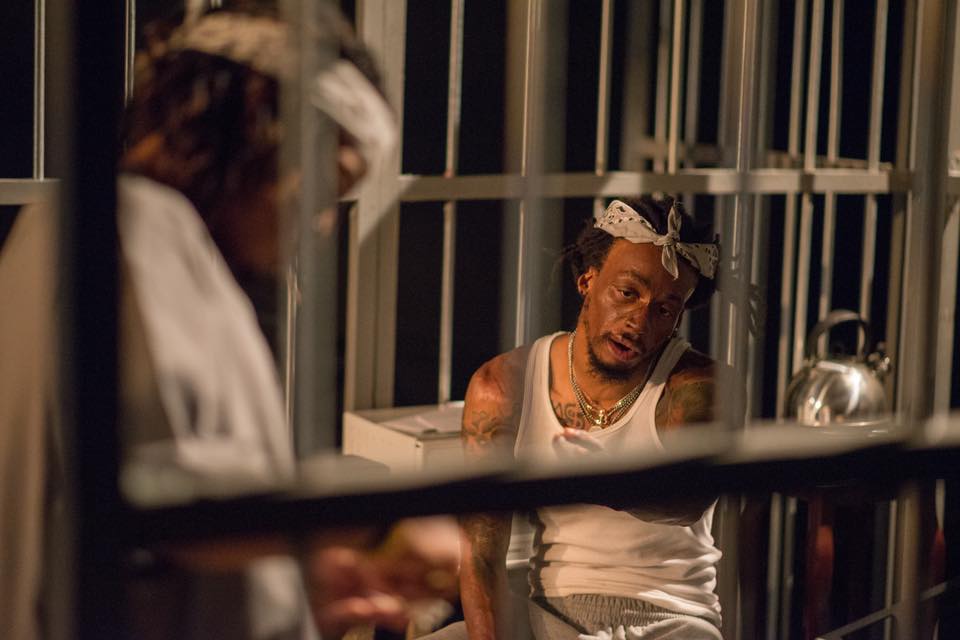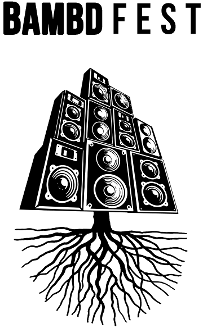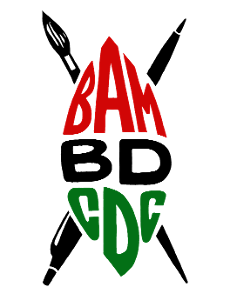 The Lower Bottom Playaz & BAMBD, CDC
presents BAMBDFEST 2023 INTERNATIONAL Biennial
BAMBDFEST:2023 is a multi-day hybrid festival in celebration of the Black Arts Movement Business District and Black arts, culture, and economics in Oakland, CA. This work has been funded by Creative California Communities from the California Arts Council, Akonadi Foundation, Community Coalition for Equitable Development, Theater Bay Area, NETS, and Zellerbach Foundation. The Festival consist of performances by theater artists, musicians, dancers, comics, poets, youth groups and town legends. It features an eclectic mix of free and paid arts events, gallery installations, ways to support, virtual vendors, virtual and public symposiums, a film festival, and more that showcase the best of Oakland's vibrant artistry. The festival will engage Oakland artists, the global arts community, and the public in a massive celebration of Oakland's history and importance of its rich contributions to The Black Arts Movement, the State of California and the world beyond.
BAMBD, CDC
BAMBD, Community Development Corporation of Oakland, was created to help organize, focus, and activate the District in a manner that enables maximum benefit to Black communities, serves to inform a national model for marginalized communities, and reflects positively on the City of Oakland's rich history of actively seeking justice. The activation of BAMBD is a work in progress and a grand undertaking that has the intention of creating a world-class Art's district that is reflective of its name and those whom it seeks to commemorate. The non-profit is an arts service and advocacy organization dedicated to creating positive outcomes for Oakland's Black communities, by supporting dynamic organizations and programming to ensure sustainability of Black communities in Oakland for generations to come. We will accomplish that by promoting and advocating for Black artist, culture makers, businesses, organizations, and entrepreneurs, by being instrumental in creating, advocating for, and facilitating opportunities for artists, culture makers, Black businesses, entrepreneurs, and community members.

Creating what we need from what we have been gifted since 1999.
CLICK THE BUTTON TO SUPPORT OUR WORK